Archive for January 23, 2016
Press Release
Indianapolis Downtown Artists & Dealers Association (IDADA)
First Friday events scheduled for Feb. 5, 2016 include:
GALLERIES
Art Bank    317.624.1010
811 Mass. Ave.    artbankgallery.com
Photographer and illustrator Deane Sagehorn will be the Featured Artist with her show, "Perception Predilection," 6-9pm. Admission: free. Her work is humorous, calming and meditative, a resting point for the eye, refreshing in its simplicity.
ATHENAEUM ARTSPACE    317.655.2755
401 E. Michigan Street, 2nd floor    athenaeumfoundation.com
The InSight Art Promotions presents: NEO 5. Come & enjoy conversation with five emerging young artists. The challenging and conceptual work of Rebecca Robinson, Rae Parker, Latoya Marlin, Omar Rashan and Sidney Holmes… awaits you!
FINE ESTATE ART AND GALLERY TWO     317.253.5910
1332 North Illinois Street    gallery-two.com
Gallery Two Presents:  "Coastal Rhythms"  recent paintings from Maine by Jerry Smith.  Twenty new oil paintings of the Maine coast from Jerry's recent travels.  Jerry and other G2 artists on-hand.  Gnosh, cheer and art in abundance!
Franklin Barry Gallery at The Frame Shop    317.822.8455
617 Mass. Ave.    franklinbarrygallery.com
The Gallery will  feature paintings by painter, faux artist Bob Bayliss, Ohio. Bob incorporates texture in many of his works to create age or effect on the canvas.   Represented by Franklin Barry ten years, and that's a reason to celebrate!
Gallery 924    317.631.3301
924 N. Pennsylvania St.    indyarts.org/gallery924
The Young Collectors Show. This exhibition is curated and installed especially for the enjoyment and appreciation of 3-12 year old children. Expect to see beautiful, whimsical, and intriguing artwork by 30 central Indiana contemporary artists. Join us for a Special Event on Saturday, February 6 from 10am–12 noon for the Indy's Child Pop-Up Play Date. See the Young Collectors Show and enjoy snacks and fun art activities for the whole family.
Raymond James Stutz Art GallerY    317.503.6420
212 W. 10th St., Suite B110 – First Floor     stutzartists.com
"What Makes My Heart Beat?" – In partnership with the  American Heart Association's Go Red for Women, this heart-warming art exhibit will feature people, places and things that the artists find endearing. Their passions will be displayed in the form of sculptures, paintings, photographs, wearable art, and more. In addition, they've installed a chalkboard wall for visitors to share what makes their hearts beat and why they want to stay healthy for their families – in support of Go Red's theme this year..
SATCH LOST & FOUND Art GallerY    317.691.3661
1125 E Brookside Ave Gallery 2L     satch@indy.net
Located in the Circle City Industrial Complex, see recent assemblage art by Artist SATCH using repurposed and recycled materials.
ARTIST STUDIOS
Harrison Center for the Arts    317.396.3886
1505 N. Delaware St.    harrisoncenter.org
In the Harrison Gallery – "Follow Your Heart" group show features the work of five artist couples. HCA curator Kyle Ragsdale, who conceived of the show, said, "It's interesting to see the work of two artists shown together, knowing that they have lived together and been in relationship over time, and to think about the ways they have influenced each other's work." Participating artists are Amy Falstrom and Ralph Domanico, Corey and Megan Jefferson, Zack and Gala Bent (Seattle), Andrew Perry Davis and Rachel Bliell, and Quincy and Nikki Owens. Artist reception, 6–9pm. The work hangs through February 26.
In the City Gallery, which features place-based work that celebrates urban Indy, presents Very Truly Yours, new work by Erin Hüber. From high tea at L. S. Ayres & Co. to the parlor room of the 23rd President, Benjamin Harrison, this body of work reflects on Indianapolis at the turn of the century.
In Gallery No. 2 – Kali Yuga: Drawings for an Aging Universe, Hannah Barnes. Barnes, teaches painting at Ball State University in Muncie, Indiana, creates work that "explores the tensions between structure, fragmentation, pattern and aberration, through the lens of abstraction."
In Hank & Dolly's Gallery – "Thirteen Years" – new work by Chad Campbell. In this exhibit, the gallery becomes the art. Campbell's assemblages are created from poplar lath removed from the Harrison Gallery ceiling during the first phase of its recent renovation and the dozens of layers of paint that, until recently, covered the gallery floor.
In the Gallery Annex – Work by Kristy Hughes and Neil Cain
In the Gym – At 7pm in the gym is the #LOVEat38th 5×5 contest sponsored by the Local Initiatives Support Corporation (LISC).  For this event, five finalists will be given 5 minutes and 5 slides to present an idea using the arts to benefit the 38th and Illinois Street Great Places neighborhood. One winning project will receive $10,000 to make it happen.
Circle City Industrial Complex (CCIC)
1125 E Brookside Ave
The CCIC artists and artisans are located in the 500,000 square-foot, mixed-use industrial space, located just NE of the Mass Ave and 10th Street. Studios are accessed from two well marked entrances at 1125 E. Brookside Avenue. Outside of First Friday and other special openings, most of the artists use their spaces as working studios. Visitors can contact artists directly to arrange visits. Studio maps and information are located inside the entrances to the building. There is free parking across the street from the entrances.  CCICA posts updates at: www.facebook.com/ccicartists
M10 Studio – Studio C7. 317-501-2119. "Back to Cuba!" Warmer US relations with Cuba have inspired photographer Eric Schoch and graphic artist Gary Schmitt to merge retro poster styles with contemporary images of Cuba that will have you ready to pack your bags and go!
Darkroom Revelations – Studio C7A. 317-727-0698. Tom Potter, Gayle Moore, and Nancy Frass work in the historic film processes for their black and white photographic prints. Fine art figurative, recent still life, our "door" project, and scenes from coastal Maine. Enjoy refreshments and demonstrations of the large format camera.
Five Seasons Studio – Studio C6. 317-523-7777. "Secret Garden". Printmaker James Hubbard shows etchings and linocuts of land, water, and sky.  Made by carving into cork or copper, Hubbard's prints reveal his connection to the land.
Nancy Lee Designs Studio – Studio C8B. 317-937-1652. New photos by Rad Drew in a show entitled Cuba: Pearl of the Antilles as well as new pearl jewelry and a pair of copper sculptures. Open 6–9PM and by appointment through Feb. 27.
ALTERNATIVE SPACES
Funkyard Coffee Shop & Gallery    317.822.3865
1114 Prospect St.    funkyardblog.com
Meet Nicholai Shaver, a painter & assemblage sculptor. This show combines his hard-line paintings with organic sculpture along with his unique Cabinet Columns & "Plein air" paintings. Live Music 7-10.
Indiana Landmarks Center     317.639.4534
1201 Central Ave.    indianalandmarks.org
Rapp Family Gallery: "WE ARE"– Relevant to the "Black Lives Matter" movement, this show hopes to ignite honest conversations. This first time collaborative exhibit features contemporary artist, Bruce Armstrong, sculptor, Keith Bullock, contemporary assemblage artist, Anthony Radfordand and  abstract, realism and fabric artist, Mijisa Saundrajo Holiday. Keyboardist and bassist Leonard Rodgers, flutist Bruce Armstrong, along with rapper Shami 'Like the Sun' and poet Mijisa, will perform on First Friday.
fletcher place art & books    
642 Virginia Ave.    please e-mail fpartsandbooks@gmail.com for information
New work by local artist Karen Mann. Join us for the IDADA First Friday opening from 6–9PM. Karen will be on hand to speak about her artwork and answer questions.
Categories:

artisans, artists, arts, arts and crafts, exhibits, fine arts, galleries, Indiana, Indianapolis, Indy, things to do, Uncategorized
IDADA First Friday Art Tour
By Stephanie Perry
Indianapolis Museum of Art
Winter is in full swing, but flowers are blooming at the Indianapolis Museum of Art.
Step into spring with the new Color Me Orchid exhibition, a vibrant and stunning display of orchids in the IMA's Madeline F. Elder Greenhouse from Feb. 19 through March 13. The exhibition will pay homage to the brilliant colors, shapes and pattern of orchids, while also highlighting their history and connection to the IMA. Throughout the show, orchids will be available for purchase in the Greenhouse and at a special Pop-Up Shop in the main Museum building. IMA horticulture experts will be available to share advice on orchid care.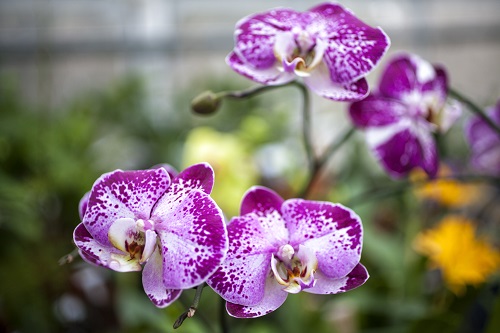 For more than 40 years, orchids have been a striking staple in the Greenhouse. The orchid was the favorite flower of Madeline F. Elder, who rallied volunteers and support to save the Greenhouse from demolition in 1972. From the beginning of Elder's involvement, the Greenhouse has housed this exquisite flower.
"Orchids have a great history of captivating people," said Sue Nord Peiffer, the IMA's greenhouse manager. "People really enjoy seeing this exotic and diverse group of plants. They have the most complicated bloom in the flowering world."
For guests looking for extra tips for caring for these complex flowers, the IMA will offer workshops on mounting and repotting orchids on Feb. 27 and March 5. Workshops are $35 and $60 for the public, with special discounts for IMA members.
The exhibition is the first of its kind in the Greenhouse in recent years. As a living gallery space, the Greenhouse offers classes, workshops and educational plant displays year-round.
Color Me Orchid is included with general admission and free for IMA members. During the opening weekend, IMA members will receive a special 20 percent discount in all onsite retail stores, including the Pop-Up Shop and Greenhouse.
"Although this exhibition may seem nontraditional for the IMA, it is reflective of our new direction," said Dr. Charles L. Venable, the IMA's Melvin & Bren Simon Director and CEO. "We are more than an art museum— we have botanical gardens, a park and a historic estate. We have scientists, horticulturists, teachers and historians on staff. We want to showcase the expertise of our team and the experiences that make our institution unique. When guests visit the IMA, we hope that they not only explore the galleries, but all that we have to offer on our diverse, 152-acre campus."
To learn more, visit www.imamuseum.org.
By Rachel Hill Ponko
Indiana Historical Society
Registration is underway for the first free teacher workshop presented by the Indiana Historical Society (IHS) and Indiana Humanities in 2016. The one-day workshop, celebrating the state's Bicentennial, takes place Friday, Feb. 5, from 7:30 a.m. to 3:30 p.m., at the Eugene and Marilyn Glick Indiana History Center, located at 450 W. Ohio St. in downtown Indianapolis.
Dr. James H. Madison, noted historian and coauthor of Hoosiers and the American Story, will give the keynote address. Participants will receive a free copy of the book, designed as a supplemental text for grades eight through 12. It explores Indiana examples of topics taught in U.S. History classrooms, such as Native Americans, westward expansion, the Civil War, industrialization and Civil Rights, just to name a few.
Another highlight of the event involves the IHS resource, http://www.destination-indiana.com. The website allows teachers and students to both view and create time-travel "journeys" by grouping together images on a particular subject. New journeys added in the past year include James E. O'Donnell, Hoosier Hero; Christmas at L.S. Ayres; the Goodrich Family; Indiana's 1816 Constitution; and Indiana's 1851 Constitution.
The event is geared toward grades eight through 12, but fourth grade teachers who want to learn more about Indiana history are also welcome. Select age-appropriate materials for fourth grade students will be provided. Space allowing, media specialists, teachers of other grades/subjects and other K12 school personnel may also enroll in the program.
All participants will receive a Certificate of Attendance, reflecting six hours of professional development, which may be submitted for Professional Growth Points (PGPs), as well as lunch and a gift card to help offset travel expenses. IHS will also reimburse schools or districts for substitute teacher fees, in order to allow teachers to attend.
Educators can register online now through 5 p.m., on Wednesday, Feb. 3, at http://www.indianahistory.org. This program is made possible by a generous grant from Lilly Endowment Inc. For more information about the workshop and other IHS programs, call (317) 232-1882.
About the Keynote Speaker
Dr. James H. Madison is the Thomas and Kathryn Miller Professor Emeritus of History, at Indiana University, Bloomington, where he began teaching Indiana history three decades ago. An award-winning teacher, he has also taught at Hiroshima University (Japan) and the University of Kent (Canterbury, England). Madison serves on the boards of Indiana Humanities and the Indiana Historical Society, and is a member of the Indiana Bicentennial Commission. He is the author of several books, including Eli Lilly: A Life, 1885–1977 (1989); A Lynching in the Heartland: Race and Memory in America (2001); Slinging Doughnuts for the Boys: An American Woman in World War II (2007); and World War II: A History in Documents (2010). His most recent book, Hoosiers: A New History of Indiana (2014), is co-published by Indiana University Press and Indiana Historical Society Press.