"Color Me Orchid" Exhibit at IMA, Feb. 19-Mar. 13, 2016
By Stephanie Perry
Indianapolis Museum of Art
Winter is in full swing, but flowers are blooming at the Indianapolis Museum of Art.
Step into spring with the new Color Me Orchid exhibition, a vibrant and stunning display of orchids in the IMA's Madeline F. Elder Greenhouse from Feb. 19 through March 13. The exhibition will pay homage to the brilliant colors, shapes and pattern of orchids, while also highlighting their history and connection to the IMA. Throughout the show, orchids will be available for purchase in the Greenhouse and at a special Pop-Up Shop in the main Museum building. IMA horticulture experts will be available to share advice on orchid care.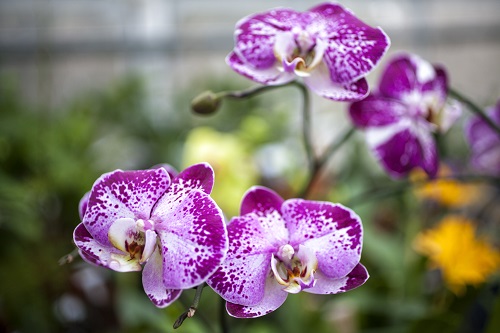 For more than 40 years, orchids have been a striking staple in the Greenhouse. The orchid was the favorite flower of Madeline F. Elder, who rallied volunteers and support to save the Greenhouse from demolition in 1972. From the beginning of Elder's involvement, the Greenhouse has housed this exquisite flower.
"Orchids have a great history of captivating people," said Sue Nord Peiffer, the IMA's greenhouse manager. "People really enjoy seeing this exotic and diverse group of plants. They have the most complicated bloom in the flowering world."
For guests looking for extra tips for caring for these complex flowers, the IMA will offer workshops on mounting and repotting orchids on Feb. 27 and March 5. Workshops are $35 and $60 for the public, with special discounts for IMA members.
The exhibition is the first of its kind in the Greenhouse in recent years. As a living gallery space, the Greenhouse offers classes, workshops and educational plant displays year-round.
Color Me Orchid is included with general admission and free for IMA members. During the opening weekend, IMA members will receive a special 20 percent discount in all onsite retail stores, including the Pop-Up Shop and Greenhouse.
"Although this exhibition may seem nontraditional for the IMA, it is reflective of our new direction," said Dr. Charles L. Venable, the IMA's Melvin & Bren Simon Director and CEO. "We are more than an art museum— we have botanical gardens, a park and a historic estate. We have scientists, horticulturists, teachers and historians on staff. We want to showcase the expertise of our team and the experiences that make our institution unique. When guests visit the IMA, we hope that they not only explore the galleries, but all that we have to offer on our diverse, 152-acre campus."
To learn more, visit www.imamuseum.org.